Prestigious Dinosaur parties
If you're looking for that extra-special treat for your party, then why not get a dinosaur to liven things up? For kids and adults alike, a Cretaceous creature will make the party oh-so-memorable!
An inspiring day
So, you're arranging a high-end birthday party for your child and want to do something to make it extra special. A bouncy castle? Clown? Balloon modeller? They may deliver results but what can you do that's in a entirely different league?
The answer – RentaDinosaur for your prestigious party!
Starting from £695+VAT to make your child's party a (pre)historical one, you can invite some adorable Dino babies to join in the fun! Ask us about bigger options with Baxter the T-rex at 4m long and 2.5m high at full stretch, Tiny the Triceratops who is even bigger!
We can do a "meet and greet" session with all the children at once, or your child can be a Dinosaur wrangler for the day and lead a dinosaur around to introduce them to all of their friends.
There are many exciting and impressive options to choose from for you to make this a fun and memorable luxury party for everyone, and we are very flexible in creating an itinerary to suit you within the time constraints.
Examples of what we can do for you:
An introductory "Meet Baxter/Tiny" performance.
A comedy performance, with our Wrangler getting the dinosaur to do entertaining sketches involving members of the audience, and even slipping in some dinosaur education when nobody's looking.
Runaround Games with Baxter – we can play Hide and Seek, 'What's the time, Mr Baxter?' or anything else you like that's practical. Pin the tail on the Dinosaur is NOT recommended.
Feed the dinosaur, with realistic foam meat!
We can do a short talk about dinosaurs, with museum quality replica Teeth and claws, that everyone can touch and hold, and even some genuine Spinosaurus Teeth, and real fossilised Dinosaur poo!(No, it doesn't smell, but everyone always checks!)
Interact with the guests by introducing them to the Dino Babies.
With numerous photo opportunities with the dinos and fun moments to film for posterity, your party will be the talk of all your friends as well as a special memory your child will cherish forever.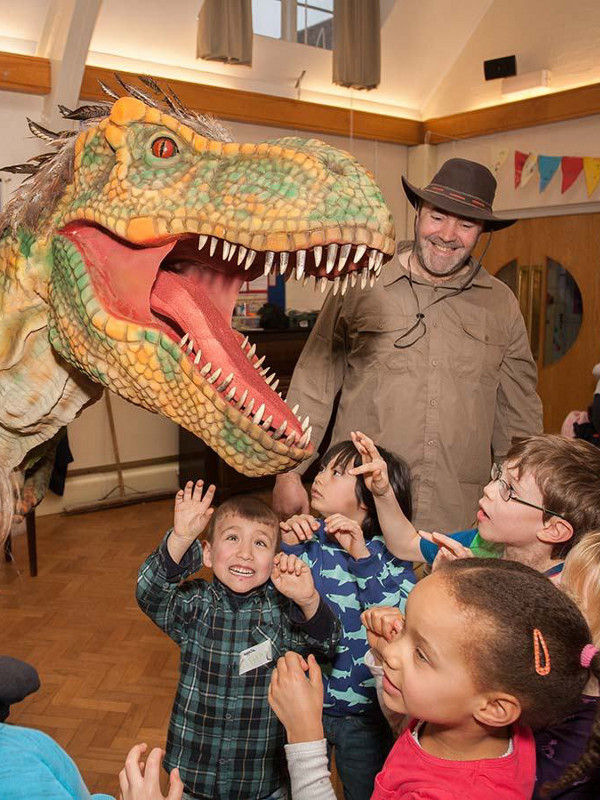 Please note – Baxter and Tiny are too big to go through single doors, unless you have a very big house, with double doors! If you've heard of the term 'Bull in a China Shop', a little rampant bull has nothing on a baby dinosaur!